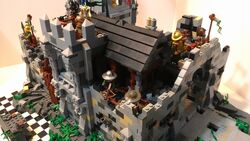 Falmore is one of the most important fortresses in the province of Falmor, under the nation of Mythron.
Falmore was a residence of the King of Falmor before the War of Rainosian Independence, but was captured by barbarians despite the best efforts of the garrison commander, Gormeing (Night Reaper). Later, control of the damaged castle passed from the undisclosed clan that took it to the Iber Clan, which established a guerrilla defense against efforts to retake the region. A major offensive was mounted against the castle in the spring of 5 AB by a Carthalian commander, General d'Colore, but it was repelled with assistance from William the Scarred, a warlord of Rainos, and a mix of Rainosian and Enalican refugees who had landed at the castle some days previously. In celebration of the victory, the local lord expanded the complex with a magnificent hall and greatly increased the garrison. As part of the opening festivities for the new hall in the summer of 5 AB, many Rainosians (including the recently-recruited Gormeing, former Mythronian defender of the fortress, and Steven the Bull Knight, one of the refugees who had defended the castle that spring) attended a great feast there.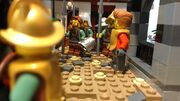 External Links:
Edit
Community content is available under
CC-BY-SA
unless otherwise noted.