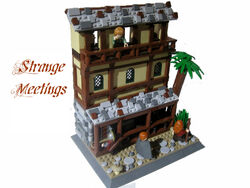 Red Sand is a small town on the Eastern shores of Rainos. Besides being the home to many Rainosians and Outlaws alike, it is also the site of a historic battle that took place when the Mythronians invaded. Jaldor the Outlaw took up arms with the town's ragtag defenses and led them to victory against wave after wave of Mythron offenders, tainting the beach red with the blood of fallen warriors. When the battle was over, the town was renamed Red Sand in honor of the decisive victory. Jaldor was then given the town to claim as his own as a reward, and was shortly after awarded with honorary Rainosian citizenship and a knighthood by King Bartok.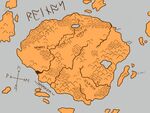 Red Sand is a beachy area, surrounded by all kinds of plant life. If you walk far enough, you'll come to the ocean that separates Rainos from Mythron.
The Crimson Knights
Edit
After earning mayorship of the town, Jaldor established a guild there known as the Crimson Knights. This honorable band drew members from across the Lands, and nearly won the first Tourney. Members promoted justice of a sort and worked against wanton violence, and were used as defensive forces in Red Sand and occasionally as an impartial peacekeeping force capable of breaking up brawls and minor scraps between some of their neighbors in Rainos.
Community content is available under
CC-BY-SA
unless otherwise noted.